Our Services at Robinson, Stafford & Rude, Inc.
Training
Welcome to the Robinson, Stafford & Rude, Inc (RSRI) training page. RSRI provides training through five standard seminars, which are offered multiple times each year, as listed below. We can also produce customized training for your organization, if desired.
Module I – 5 Days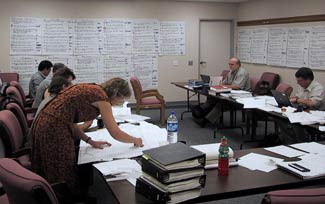 RSRI's Module I, SAVE-Certified, 40-hour Value Engineering training course is designed to provide basic education in Value Engineering for individuals who are interested in leading Value Engineering studies, and/or managing Value Engineering programs. The course consists of 20 hours of lecture and 20 hours of hands-on practice on a live Value Engineering study of a real project.
While the course provides the basic knowledge to apply the Value Methodology in any of the areas of application (products, projects or processes), it is designed primarily for those who will be applying the Value Methodology to construction projects (Value Engineering). The class is taught by a practicing Value Methodology professional.
Value Engineering "How-To" for Project Managers – 2 Days
This two-day course is a primer on value engineering for the project manager. It will provide you with the knowledge you need to decide if value engineering is appropriate for your project, what to expect from value engineering and how to procure and apply value engineering to your projects. It will provide you with a basic understanding of what Value Engineering is, its origins and history, and its applicability to today's capital projects in the public and private sector. It will provide information about federal and state requirements for Value Engineering. The courses will also provide guidance for obtaining Value Engineering services, including an explanation of the various levels of certification of Value Engineering competence. The course includes participation in a mini-value engineering study of a capital project. A partial listing of the topics covered in the courses is:
What is Value Engineering?
Origin of Value engineering
History of Value Engineering
Benefits of Value Engineering
Current Legislation Regarding Value Engineering
Description of the Value Engineering Process
How to use Value Engineering on Projects
How to Select and Hire a Value Engineering Consultant
Key Factors for Value Engineering Success
Problems to Avoid
Impact of Value Engineering on the Project Designer
Guidelines for Acceptance of Value Engineering Recommendations
Project Resource Modeling for Project Managers – 1 Day
Walking the tightrope between a project budget and the owner's "wishlist" becomes more challenging by the day. And as more clients adopt a posture of requiring redesign at no additional cost if project bids come in over the budget, the challenges become more daunting. One of the tools available to help manage project scope is resource modeling. This involves structuring the various resources that affect project cost (both capital cost and life cycle cost) in a way that permits in-depth analysis of the commitment of those resources to the project goals. This one-day class will provide you with the knowledge to enable you to use these analysis tools to better manage and control costs on your projects. It addresses both first and operating cost, energy, schedule, space management and personnel utilization.
RSRI 2016 Seminar Schedule
Class
Dates
PDHs
Location
Price

SAVE International® Certified
Module I Training Workshop

5/23-27/2016
40
Washington, DC
$1,500
7/11-15/2016
40
Seattle, WA
$1,500
10/3-7/2016
40
Newark, NJ
$1,500
Value Engineering "How To" For Project Managers
6/1-2/2016
16
Washington, DC
$400
7/7-8/2016
16
Seattle, WA
$400
10/12-13/2016
16
Newark, NJ
$400
Project Resource Modeling for Project Cost Managers
5/31/2016
8
Washington, DC
$250
7/6/2016
8
Seattle, WA
$250
10/11/2016
8
Newark, NJ
$250